Alice: Madness Returns Storybook
Talk

0
388pages on
this wiki
''American McGee's Alice''
Developer
Spicy Horse
Publisher
Electronic Arts
Release date
May 22, 2011
ESRB rating
17+
Platform(s)
iOS (Apple iPhones, iPods, IPads)
Flash (Facebook)
| | | |
| --- | --- | --- |
| " | I can't tell false from true; real from unreal. And I want to. I must. Perhaps I am destined to be always on the keen edge of madness. One thing remains certain; I am unable to avoid the visions. I must confront them. | " |
Alice: Madness Returns Storybook is a free-to-download application that was developed by Spicy Horse to promote Alice: Madness Returns. Presented as an interactive book, the app was released in the iTunes Store on May 22, 2011 for the iPhone, iPad, and iPod Touch. A port for Facebook was created and a port for Android phones is currently in development.
The Storybook is a prequel to Madness Returns, covering the ten year period that Alice Liddell was treated in Rutledge Asylum, finishing around the time of her release and move to Houndsditch Home for Wayward Youth. As well as covering the events that happened during American McGee's Alice in Wonderland, it also shows what happened to Alice in the asylum.
To progress through the story, the viewer must interact with the illustrations, either by pressing buttons, moving objects around the screen, or reading newspaper articles.
Alchemical discoveries
Edit
There are eight astronomical symbols hidden throughout the Storybook. Locating the symbols and pressing them correctly will result in unlocking preview screenshots and concept art for Madness Returns. These images can then be saved onto the viewing device and be used as background wallpaper.
Symbol
Page No.
Location
♅

Uranus

1
The white, left-hand "gargoyle" on the roof
♆

Neptune

5
In the window on the farthest right
♀

Venus

11
The bottom-right side of the Check Board

Eris

12
Along the edge of the puddle of blood, right to the White Queen 's Head
☿

Mercury

13
In the center of the largest cog in the bottom-right corner
♄

Saturn

15
Under the tentacle coming from the top of the screen, carved into the stone
♃

Jupiter

16
In the bottom-right corner of the text box after breaking the heart

☽
Moon

18

In a blood stain, next to the bunny (which redirects to the "Table of Contents")
Pluto
19
Engraved into the desk in the top-left corner
Newspaper articles
Edit
Interactive Storybook Trailer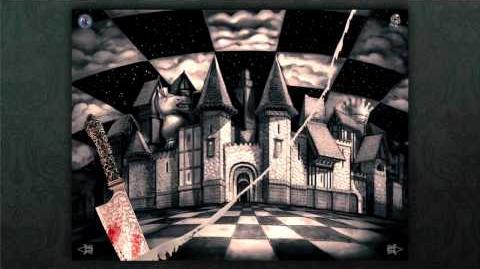 External links
Edit