Alice: Otherlands
Directed by
Produced by
Music by
Cinematography
Release date

2015[3]

Language

English

Budget

$222,377[4]

Image gallery (20)
"
Alice is fighting a larger evil in the world. One that affects not just her or the people that she cares about and nearby, you know, her family and friend, but also affects society at large.
"
Alice: Otherlands
, formerly known as
Alice in Otherland
, is the upcoming animated sequel to
Alice: Madness Returns
. It is a series of two short films developed by
Spicy Horse
to help bring closure to the
Alice
series, which was envisioned as a trilogy by American McGee. However, this does not mean that there will no future
Alice
installments. It was intended to be released around December 2014 on DVD and Blu-ray, but has been pushed back to sometime in 2015.
[3]
It was originally going to be a video game, however, due to dealings with Electronic Arts, which owns the Alice property, regarding budgeting and licensing, it became an independent project on Kickstarter.[4]
Otherlands is set in near 1876. It focuses on a presumably 20 year-old Alice Liddell connecting with and entering the mentalities and minds of those around her known as "Otherlands", and revolves around her discovering the horrors of the human subconscious.
Episodes
Edit
Leviathan
Edit
Features Jules Verne and will be anime stylized. Animated by Edward Goin. It is confirmed that Alice will wear four additional dresses: Balloon, Expedition, Galaxy and Nautical. Angus Bumby will also likely appear as a tentacle.
A Night at the Opera
Edit
Features Richard Wagner and will be stop-motion. Animated by Troy Morgan.
Production
Edit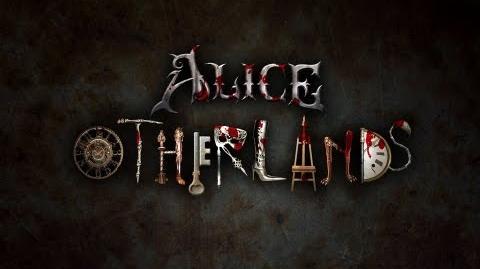 Main article: Alice: Otherlands production
The production started around May 2011 but was on-hold until March 2013. On August 5, 2013, the project was successfully funded. Voice acting funds for Susie Brann and Roger L. Jackson were acquired on August 17, 2013.
Originally, the project was intended to be released on December 2014, however, the project was still in the scoring phase by the time December had started and was set to resume after the holidays.
The physical assets will be released first, then the digital ones will follow around the same time.
Related media
Edit
Soundtrack
Edit
Main article: Alice: Otherlands Original Soundtrack
The game's original music score will be released, titled Alice: Otherlands Original Soundtrack.
The music will be composed by Chris Vrenna and Walter Sickert and the Army of Broken Toys.
Art book
Edit
Main article: The Art of Alice: Otherlands
Spicy Horse will release a hardback art book entitled The Art of Alice: Madness Returns through the publisher Dark Horse. It features an introduction by American McGee, and full-color, official promotional pieces and concept art for Otherlands, with notes from the artists.
External links
Edit
References
Edit