American McGee's Alice
Talk

2
386pages on
this wiki

American McGee's Alice
Developer
Rogue Entertainment
Publisher
Electronic Arts
Release date
October 6, 2000
ESRB rating
Mature (M)
Platform(s)
PC, Mac, PlayStation 3, Xbox 360
Image gallery (8)
American McGee's Alice
, or simply
Alice
, is a third-person, action-adventure video game that was developed by Rogue Entertainment and published by
Electronic Arts
. It was released on October 6, 2000 for PC and on July 20, 2001 for Mac. A PlayStation 2 port was in development but was ultimately canceled.
Designed by American McGee, hence the game's title, and featuring music produced and composed by Chris Vrenna, Alice acts as a macabre sequel to Lewis Carroll's best-known novels, Alice's Adventures in Wonderland and Through the Looking-Glass, and features elements from the shooter, platforming, and horror game genres. It was originally released with a casebook, which revealed additional plot details.
Almost eleven years after its release, Alice was followed-up with a sequel, Alice: Madness Returns, which was released in June 2011 for the PC, PlayStation 3 and Xbox 360. It was bundled with an enhanced port of American McGee's Alice. This marked the first console release of Alice.
Plot synopsis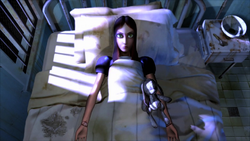 Shortly after Through the Looking-Glass and What Alice Found There, at the age of seven, Alice Liddell witnessed the death of her family in a fire that broke out in her home, which was destroyed in the blaze. Suffering from survivor's guilt, Alice began to lose her grasp on reality and was ultimately sent to Rutledge Asylum for her insanity and catatonia.
Nearly ten years after being committed, in August 1874, Alice was brought back into Wonderland, now a twisted and deadly version of itself, due to the horrible rule of the Queen of Hearts and additionally, Alice's own insanity. With the Cheshire Cat as her guide and the help of other creatures from her past adventures, it is Alice's task to kill the Queen, in order to save Wonderland and herself from the corruption.
Gameplay
Combat
From the beginning, the player takes control of Alice, the game's only playable character. As she goes along her journey through Wonderland, various enemies and beasts will try to attack her, to stop her from reaching the Queen, or because they see her as a threat. The types of enemies that appear depend on which area of Wonderland Alice is currently visiting. As well as generic enemies, Alice has to face large, more deadly foes in the form of boss battles, which plays a large part into the story.
During the course of the game, Alice collects ten different weapons to fight with. Each weapon has two different attacks, of which most can be found in obvious places where they will be in view of the player:
Sanity and Will
On the screen, there are two meters that represent Alice's vital statistics. The left-hand, red bar - dubbed "Sanity" - is Alice's health bar. Whenever Alice suffers damage, she starts to lose her sanity. When the bar is empty, Alice loses all of her sanity and collapses, resulting in "game over." The right-hand, blue bar - dubbed "Strength of Will" - represents the ammunition or fuel for the weapons. Weapons use up Strength of Will to perform attacks, and when the bar is empty or the player attempts to use a weapon that requires more Will than the bar contains, Alice will automatically switch to the Vorpal Blade, the weakest and only weapon that does not consume Will (aside from the Croquet Mallet's primary attack). Meta-Essence can restore Alice's Sanity and Will when collected.
Power-up items
Throughout the game, Alice can find various items that will change her form and grant her special strength and abilities. However, while powerful, they last for a limited amount of time after touching them:
Related media
Soundtrack
The soundtrack to Alice was released on October 16, 2001 by Six Degrees Records, under the title American McGee's Alice Original Music Score. It features all twenty original compositions by Chris Vrenna, including a previously unreleased theme and a remix of Flying on the Wings of Steam.
Film adaptation
In December 2000, director Wes Craven signed on to develop a film adaptation of Alice, and screenwriter John August was hired to adapt the game for the big screen. American McGee had begun negotiations with Dimension Films 10 months before, with the studio committing to the project before Craven's signing.
In September 2001, August explained that he had turned in a script treatment for Alice and was not attached to develop fuller drafts for the film adaptation. In February 2002, Dimension Films signed screenwriters Jon and Erich Hoeber to write the screenplay for Alice. In July 2003, the brothers announced that they had completed the script for the film adaptation.
In 2004, the project moved from Dimension Films to 20th Century Fox, but then in 2005 Universal Pictures acquired the rights. As of June 2008, producer Scott Faye indicated the film was in "turnaround" from Universal. He admitted that the script needed development, but would be used to attract the attention of a new studio. At one point, the film rights were reported to have been owned by Sarah Michelle Gellar, who at one point was rumored to play Alice in the film. She noted in 2008 that she's "not giving up" on the film, but a few months later she was reported to have left the project. The current state of the film project is unknown, but McGee maintains credited as creator and producer of the project.
Reception
American McGee's Alice received mostly positive reviews from critics, with an 85 out of 100 score on Metacritic, with the average score being 8.3.
GameSpot gave the game a 73, despite the fact the company is known to have many of the original screenshots of the game and insiders. IGN gave the game a 94, stating "The graphics, as I think I've repeated about 50 times, are monumental, but let me just add that the character designs shine just as much."
Beta edition
While Alice: Madness Returns has a trailer purely for Beta content, American McGee's Alice does not. Beta material is found through old screenshots before release.
There is also a trailer which shows the final trailer before release, along with beta music and uncompleted scenes that are simply story boards. These were also released on the original site.

Trivia
References
See also