Arthur Liddell
Talk

3
386pages on
this wiki
"
Whoever destroys a soul, destroys the world. There is much wisdom in that, Alice.
— Arthur Liddell
"
Arthur Liddell was a father to Alice and Elizabeth, and a husband to Mrs. Liddell. He was also a dean at Oxford University and an amateur photographer, until a fire in his family home killed him, his wife, and his daughter Lizzie.
Biography
Edit
Prior to the Alice series Edit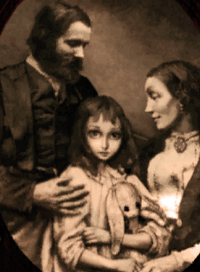 Arthur lived in Oxford with his family, and was a dean at the city's university. While not at the university, he would focus on his passion for photography, and he used the downstairs library to keep his equipment and pictures, despite his wife's concerns about how easily the flammable things could be set alight, and Lizzie's dislike of the chemical smell. As well as spending time on his hobby, Arthur would often invite his undergraduates to tea at the family household. This act of kindness led to one of his students, Angus Bumby to become attracted and obsessed about Lizzie.
Bumby would try to make sexual advances towards Lizzie behind her family's back, despite her strong disgust towards him,[1] and this ultimately led to Bumby breaking into the Liddell house to raping her, then starting a fire in the library to cover up his crime. Apparently, both Arthur and Mrs. Liddell were heavy sleepers,[1] and would not have even heard the "noises" coming from their daughter's bedroom.[2] With the flammable equipment acting as fuel, the fire spread quickly.[1]
In the chaos, Arthur and his wife told Alice to escape while they tried to get Lizzie out of her room.[1] However, because Bumby had killed Lizzie after raping her, and locked her bedroom door from the outside, their efforts were pointless. They died by incineration as a result.[1] The death of her family soon led to Alice's descent into insanity,[3] and to the corruption of Wonderland.
Appearance
Edit
In the Liddell family portrait, Arthur appeared to be a middle-aged man with a squared jaw and small eyes. He had thick, dark hair, and a full beard and mustache. He can be seen wearing a dark suit with a jacket and waistcoat.
Personality
Edit
Little is known about Arthur, but it seems he was a proud man and father, and was like a hero or ideal role model to Alice. He was very wise and had a philosophical way of thinking. He had knowledge of various subjects, and had an artistic side, shown mainly through his love of photography.
References
Edit