Bottles
Talk

0
261pages on
this wiki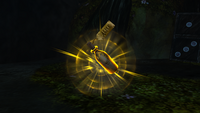 Bottles are a type of unlockable in Alice: Madness Returns. There are 83 in total, and all the bottles look similar: glass vials with cork stoppers and a thin label tied around the neck, bearing the name "Alice" and the symbol of Omega. The only difference is that some bottles are gold and others are blue. Collecting all the blue bottles in a chapter will unlock character profiles relating to said chapter. Likewise, gold bottles unlock concept art.
Many of these bottles are overtly visible, and others can be easily found the help with Shrink Sense directions. A few are somewhat more subtly hidden.
During a second playthough, to help the player, previously collected Bottles will cease to glow as they originally did. This signals that the bottle has already been collected and that there is no need to collect it again (if the player is attempting to complete the game with an 100% mark or collect an achievement or trophy).
Video walkthroughs
Edit
| | |
| --- | --- |
| Bottle Walkthrough - Chapter 1 - Total:18 | Bottle Walkthrough - Chapter 2 - Total:16 |
| | |
| | |
| --- | --- |
| Bottle Walkthrough - Chapter 3 - Total:18 | Bottle Walkthrough - Chapter 4 - Total:18 |
| | |
Bottle Walkthrough - Chapter 5 - Total:13