Card Guard
Talk

0
386pages on
this wiki
Despite the wreckage, there's more activity than when I left it last...for dead.

This article or section needs to be cleaned up or expanded.
"
The Guards lack imagination; don't play with them, unless you're ready to deal.

"
Card Guards are enemies that literally humanized cards in both instances; although in the first game, they are living and in the second, they are effectively zombies.
American McGee's Alice Edit
There are four types: Diamond, Spade, Club and Heart. These enemies are the first that Alice encounters and the most common in the game. Their health varies upon the type of Card Guard: Clubs being the lowest and Hearts the highest, and therefore the most dangerous.
Card Guards are one of two enemies that can be directly mentioned as a clue from the Cheshire Cat; the other is the Boojum. The quote in question goes: "The cards are tools of the queen. All suites are dolts, but dangerous."
Alice: Madness Returns Edit
The Card Guards return as enemies, still defending the remains of Queensland. Fate continues to deal these poor souls bad hands; their resurrection has left them as little more than mindless zombies, with skeletal faces, bloody holes where their suits used to be, and feral minds. Unable to remember their skill with weapons, these undead warriors are nonetheless just as hostile towards Alice as they were in her previous adventure.
The new Card Guards attack by charging at Alice and blindly clawing at her. They are generally a low-level threat, but tend to come in large groups, or as support for more dangerous foes, such as the Executioner. Additionally, they can revive themselves after being knocked down, unless Alice quickly finishes them off with a powerful blow. However, three consecutive hits with the Hobby Horse should do the trick as well.
A new variant of the Queen's minions is the Armored Card Guard, which features chain mail armor and a massive poleaxe weapon. It is slow but powerful, and only vulnerable in the symbol on its back.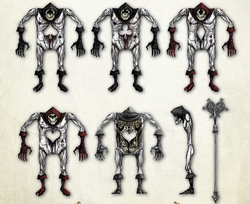 "Club Card Guards lack versatility, but shouldn't be taken lightly. Their spear jab is quick but can be easily dodged by retreating or sidestepping. The more challenging spear swing is harder to avoid— sidestep away from the swing. Use the Club Card Guard's attacks against him. He's extremely vulnerable after the spear wing—after he misses, dive in and strike Get behind the Club Card Guard; he's slow to turn around and very vulnerable from the rear."
―Alice Strategy Guide

The club card guards are the lowest of the guards. They have one of the lowest health pools, and only possess a melee attack. The Vorpal Blade is capable of killing one of them with a single throw, or two direct strikes.
Diamonds
Edit
"The Diamond Card Guard's spear has a spinning blade, making him much more dangerous than the Club Card Guard. His favorite move is a brutal combo: an uppercut stab followed by a spin and slash. The Diamond Card Guard hurls diamond-shaped projectiles from a distance, which don't track as well as your Cards, making them easy to avoid. Like the Club Card Guard, the Diamond Card Guard is vulnerable when his attacks miss—get behind him and hack away.''"
―Alice Strategy Guide

The diamonds are second on the card guard totem pole. They, like the Clubs, have an extremely low health pool and can be killed in a similar number of hits from the Vorpal Blade. However, in addition to their melee attack, they also possess a range attack in which they fire a projectile in the shape of their suit at Alice, in a linear path.
"The Queen's third guard corps is much more deadly than the Diamond and Club Card Guards. The Spade Card Guards' spears attacks are extremely deadly. The same basic dive-and-weave strategy works with these guards, but you must dodge their attacks quickly. Their long-distance attack is quite troublesome. They launch spearheads, which detonate in a ball of blue flame. This attack inflicts severe damage and engenders a shock wave that'll knock you back several feet.''"
―Alice Strategy Guide

Spades are next in the order of card guard lethality. They have a higher health pool than the diamonds and clubs, taking two throws from the Vorpal Blade to kill, and additionally have stronger attacks, including their melee, and their ranged attack which consists of two spade-shaped projectiles fired subsequently, each traveling in a linear path, and each one producing a small blue explosion.
"The Queen's personal guards are the cream of the crop. Not only do the Heart Card Guards have hand-to-hand combat attacks that put even the Spade Card Guards to shame, but they possess multiple projectile attacks. Their heart spears can produce dangerous projectiles, which can be used in long distance or close range combat. Plus, they can charge their spears (much like your Eyestaff) for a very fast-moving projectile that detonates in a jarring blast. Attack as they're charging the shot (it takes several seconds) or run toward the projectile as it approaches, sidestepping out of the way at the last moment.''"
―Alice Strategy Guide

Hearts are the most potent of the card guards. They take up to three throws from the Vorpal Blade to kill, and additionally deal much higher damage with their melee and ranged attack than any other suit. Unlike the Spades, the Hearts fire only one projectile at a time, and the Hearts' projectiles function like homing missiles, following Alice in a relatively limited arc.
Merchandise
Edit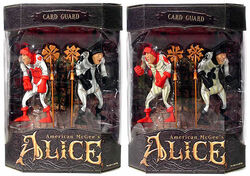 There are very little amounts of merchandise from both games, but the merchandise that is most known would be the action figures from both games. Not only was it rare for the enemies to be seen in both games, but they were also the only enemies to come back in both action figure sets. There were not many characters that generally came back, either. The only characters that came back in both sets were Alice and the Cheshire Cat.

From the original Alice game, it was possible to buy all four editions of the card guards; Clubs, spades, diamonds and hearts, however, they were packaged randomly. A box included one red card guard and one black. Diamonds and hearts were red while spades and clubs were black. These could be mixed and matched, making it difficult to receive a full set.
Unlike the American McGee's Alice edition, only one edition of the Card Guards was released, which was clubs. It has a black color scheme and unfortunately a red edition was never released.
Card Guards are one of the few enemies which made an appearance in both Alice games.
Killing 52 Card Guards grants the player the achievement on Xbox 360 or trophy on PlayStation 3 called "52 Pick-Up."