This is a list of all available cheat codes for the original PC version of American McGee's Alice. It can be activated by enabling the "Console" window found in the Game Options of Settings. To enter the following codes, press ~ (the tilde key) to open the console window while playing the game.
Remaster
The 2011 PC, PlayStation 3, and Xbox 360 versions do not allow cheats without modding due to the console being disabled. However, cheats can be modded into the 2011 PC remaster using one of two methods.
For the "ultimate" experience, install Peixoto's Patch first and then do the OmriKoresh mod. This is because Peixoto's Patch also contains some other features, while OmriKoresh mod also has more cheat features.
Peixoto's Patch method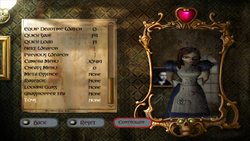 Peixoto's Patch can be downloaded via the AHK forum or a direct download. In the "Patches" folder in the .zip you just downloaded, in "Alice", extract the "base" to your own Alice folder (replace the files if it asks).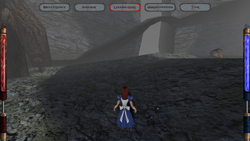 To access the cheats in-game, if you're using a controller, press the "triangle' on a PlayStation layout. If you're using a keyboard, you must first bind the cheats key in the actual in-game control settings.
Options will appear:
Summon Meta-Essence
Use Rage Box
Use Grasshopper Tea
Use Looking Glass
Have all toys
OmriKoresh mod method
OmriKoresh's mod can be downloaded via moddb, which also includes mirrors in case the download gives an error.
Drag ONLY the two files "pak8_mod.pk3" and "autoexec.cfg" into the game's "base" folder, and ensure "autoexec.cfg" only contains a single line:

bind o "pushmenu ali"

While in-game, press O to show the console and Escape to hide it. Options include:
Disabling the HUD
Noclip
First person view
No target (enemies act like Alice isn't there)
All weapons
All power-ups
General cheats
| | | |
| --- | --- | --- |
| Name | Code | Effect |
| Godmode | god | Toggles godmode. |
| No clipping | noclip | Toggles no clipping. |
| All weapons | wuss | Gives Alice all weapons. |
| Give items | give [ITEM NAME] | Gives Alice an item. For the [ITEM NAME] codes, see this section. |
| Map select | map [MAP NAME] | Opens the selected map. For the [MAP NAME] codes, see this section. |
| All weapons and full ammunition | give all | Gives Alice all weapons with full ammunition. |
| Set health level | health [1-100] | Sets Alice's health level anywhere between 1 and 100. |
| First person view | cg_cameradist -45 | Enables first person view. |
| Return to default view | cg_cameradist 128 | Returns from first person view to the default view. |
| Disable enemy AI | notarget | Disables enemy AI. |
Weapon and item codes
| | | |
| --- | --- | --- |
| Name | Code | Effect |
| Vorpal Blade | w_knife.tik | Gives Alice the Vorpal Blade. |
| Playing Cards | w_cards.tik | Gives Alice the Playing Cards. |
| Croquet Mallet | w_mallet.tik | Gives Alice the Croquet Mallet. |
| Jackbomb | w_jackbomb.tik | Gives Alice the Jackbomb. |
| Jabberwock's Eye Staff | w_eyestaff.tik | Gives Alice the Eye Staff. |
| Ice Wand | w_icewand.tik | Gives Alice the Ice Wand. |
| Jacks | w_jacks.tik | Gives Alice the Jacks. |
| Blunderbuss | w_blunderbuss.tik | Gives Alice the Blunderbuss. |
| Demon Dice | w_demondice.tik | Gives Alice one set of demon dice (there are three in total). |
| Rage Box | w_ragebox.tik | Gives Alice a Rage Box. |
| Deadtime Watch | w_watch.tik | Gives Alice the Deadtime Watch. |
Level select codes