Dormouse
Talk

0
386pages on
this wiki
"
A good worker is a live worker. Free to live - and work! A bad worker is a dead worker; and vice versa. Don't be a bad worker; bad workers are slaves, and dead. Payday for good workers has been postponed indefinitely. Payday for bad workers is cancelled!

— Dormy's message
"
The Dormouse, nickname "Dormy," was one of Alice's friends in Wonderland when she was a child. When she became insane, the Dormouse, alongside his friend, the March Hare, were turned into horrific experiments, being mutilated by their old friend, the Mad Hatter.
Biography
Edit
Early life
Edit
During Alice's early life, the Dormouse spent his days at a never-ending tea party with the March Hare and the Mad Hatter. Dormy was prone to falling asleep during conversations. He and his friends were with Alice when her house caught fire.

American McGee's Alice Edit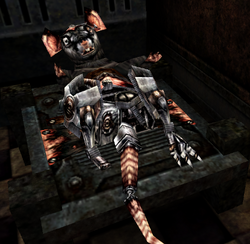 Like the March Hare, Dormy has literally become a lab rat in the Mad Hatter's workshop. Still prone to dozing off, partially because of the Hatter's medicines, the Dormouse seems barely aware of his condition and is shocked repeatedly in order to be kept awake. He is also seemingly oblivious to the fact that he is no longer enjoying tea with friends. Alice finds the Dormouse strapped to a dissection table, with his gastrointestinal tract exposed and his legs replaced with robotic parts.
Both the Dormouse and the March Hare are symbolic in the diseased Wonderland for the other patients of Rutledge Asylum who are experimented on and abused by doctors and orderlies. Alice does nothing to free them from their torment.

Alice: Madness Returns Edit
In an ironic reversal of fortune, he and the March Hare have taken control of Hatter's Domain and used it to build the Infernal Train. They then rip the Hatter apart and redistribute his limbs to serve various purposes in the factory. Dormy uses the Hatter's arms in a metal smelting works in order to power his section of the factory.
After the Hatter has been completed, the Hare and Dormouse appear in a huge robot strongly reminiscent of the Hatter's clockwork sentries to fight Alice. Surprisingly, the mecha is destroyed before the fight even begins, by a giant falling teapot, apparently killing both of them just before Hatter's domain collapses. Before the collapse, the Mad Hatter tries to engage their corpses in one final tea party.

Appearance
Edit
Like the March Hare, Dormy's cybernetic nature looks remarkably different than shown in the previous game. Dormy resembles a wind-up toy mouse with wheels replacing his back legs and a wind up key surgically placed in his back to keep himself awake and his left eye is forced open with clamps with a device attached to keep the eye moist.