Eat Me cake
Talk

2
385pages on
this wiki
The
Eat Me cake
is an item used by
Alice
in her adventures in
Wonderland
in order to change her size.
Alice's Adventures in Wonderland Edit
Alice first came across the mysterious treat in her first adventure in Wonderland. When Alice had sipped from the Drink Me potion, she ate a cake with currants spelling "Eat Me." This made her grow very tall. Later, when she became trapped in the White Rabbit's home, he and his comrades would throw pebbles into the house which became soft sponge cakes. Alice shrank this time around.
Alice: Madness Returns Edit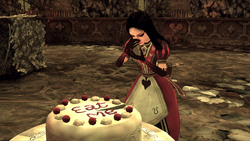 When Alice went into the deeper parts of the castle, she is chased continuously by the Queen of Hearts' executioner. However, she later came across the cake within the Majestic Maze. After consuming the cake, she immediately grew so tall and she confidently crushed the Executioner beneath her feet.[1]

Alice eating the cake is supposedly a symbolism, as she was known to love cake as a child; her interaction with a beloved and familiar object gave her confidence, as shown by her growth. Afterwards, the player can play in the Gigantic Alice mode.
References
Edit
↑ Spicy Horse. Alice: Madness Returns. (Electronic Arts). Scene: Labyrinthine Revenge. Area: Chapter 4: Queensland.