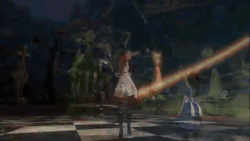 The Fire Whip was an unreleased weapon which was intended to be equipped by Alice throughout her journey through Wonderland. It was one of several weapon concepts based upon tarot and takes the color of red when equipped. Although unreleased, it is a spin-off of another unreleased weapon – the Cup, as is the Pepper Grinder.
Appearance
Similar to the Hammer, Alice's Classic dress changed to an orange shade as the Fire Whip was also a fire-based weapon.
See also
Ad blocker interference detected!
Wikia is a free-to-use site that makes money from advertising. We have a modified experience for viewers using ad blockers

Wikia is not accessible if you've made further modifications. Remove the custom ad blocker rule(s) and the page will load as expected.