Littlemore Infirmary
Series
Littlemore Infirmary
was a small hospital where
Alice Liddell
was taken after the night of
the fire
to get her severe burns treated.
History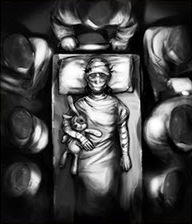 A seven-year-old Alice was taken to the infirmary on November 5, 1863 immediately after the house fire. The burns she received were severe to a point that London News stated that "prospects for her recovery [were] not at all encouraging." Alice's dermis was unharmed.
Alice was cared for by a surgeon named Dr. Grantham who lost his sanity and it is implied he accidentally killed himself.
The following year, she was judged sufficiently healed and was transferred to Rutledge Asylum for the treatment of her broken mental state.[1]
References