Littlemore Infirmary
Series
Littlemore Infirmary
was a small hospital where
Alice Liddell
was taken after the night of
the fire
to get her severe burns treated.
History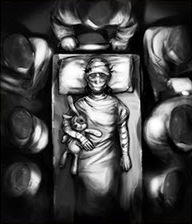 A seven-year-old Alice was taken to the infirmary on November 5, 1863 immediately after the house fire. The burns she received were severe to a point that London News stated that "prospects for her recovery [were] not at all encouraging." However, the following year, she was judged sufficiently healed and was transferred to Rutledge Asylum for the treatment of her broken mental state.[1]
References
Ad blocker interference detected!
Wikia is a free-to-use site that makes money from advertising. We have a modified experience for viewers using ad blockers

Wikia is not accessible if you've made further modifications. Remove the custom ad blocker rule(s) and the page will load as expected.