Looking Glass
Effect(s)

Makes Alice invisible

Series
"
Noisy creatures, crooks and assorted voyeurs would love to be invisible. For you, the option may be a matter of survival.
"
The Looking Glass is a rare but extremely useful item that Alice Liddell used for sneak attacks and bypassing or challenging hordes of enemies.
History
American McGee's Alice
The Looking Glass was first found underneath a walkway near the entrance to the Pale Realm. It can only be found while exploring.[1]
Usage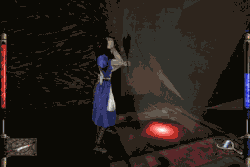 The Looking Glass is activated when Alice combs her hair. A bright light will shine out from it and she will immediately become invisible.
References
Ad blocker interference detected!
Wikia is a free-to-use site that makes money from advertising. We have a modified experience for viewers using ad blockers

Wikia is not accessible if you've made further modifications. Remove the custom ad blocker rule(s) and the page will load as expected.