Nan Sharpe
Talk

0
386pages on
this wiki
Nan Sharpe
Biographical information
Aliases
Ladybird
Nationality
London
Ethnicity
English
Physical description
Gender
Female
Hair color
Orange
Personal information
Allies
Liddell family
Enemies
Jack Splatter, Wilton J. Radcliffe
Profession
Prostitute, businesswoman
Position
Owner of Mangled Mermaid, Liddell family nanny (formerly)
Image gallery (5)
"
Where's my money, you fucking spunk bucket?
— Nan to Jack Splatter
"
Nan Sharpe was Alice Liddell's nanny, and mentioned by Pris Witless as an "uppity whore."[1] She is the only one whom it seems that has no hate nor desire to receive any benefit from Alice's madness; if anything it seems that she may even pity Alice.[2]
She is the owner of a whore house known as the Mangled Mermaid on the east side of London.[3]
Prior to the Alice series Edit
Nan looked after the Liddell sisters during Alice's youth, and taught them music and as well as French. She apparently had conversations with Mrs. Liddell concerning Alice's daydreams of Wonderland. Nanny encouraged Alice to practice the piano instead of daydreaming, but she was never terribly strict about it.
Alice: Madness Returns Edit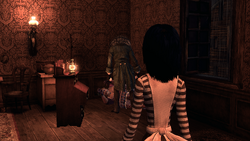 Alice visited the Mangled Mermaid to find her former nanny. At the side of the establishment, she found Nan and Jack in a heated argument. Jack threatened Nan but the latter dismissed his threat and asked Alice to come up. Moments later, Alice found her nanny sobbing on the floor after being beaten by Jack.
Alice tried to defend her nanny but is knocked unconscious by Jack. He then knocked off a lamp which set the establishment on fire.[3]

After Alice came to, she and Nan rode a carriage to Radcliffe's house. Alice inquired about her rabbit doll and the Fire. Nan refused to tell her much about the incident and denied having the doll, saying that Radcliffe has it.[4] Her last appearance is during Alice's hallucination at Rutledge Asylum.[5]
Personality
Edit
She refers to Radcliffe as a "greedy sod" for having an interest in Alice's inheritance. She also shows disgust for the selling of children for prostitution.[4]
Appearance
Edit
Nan Sharpe wears a pink dress that accentuates her breasts. She has a peacock feather placed on the bun of her hair and has a sailor's anchor tattooed onto her right breast. She has a black eye due to frequently being hit by Jack Splatter.
Nanny also makes a few comments to Alice in a cutscene,[4] that suggests that Alice may have done things much as Nanny did (e.g. prostitution) to get by. In particular she makes a comment about "Doing what one needs to do to get by." After which she goes on say to Alice that "She knows a good deal about that" to which Alice assents.[4] However this seems unlikely due to Alice going immediately to Dr. Bumby's after she got out of the asylum to work for him, it being hinted that she works as the maid. This is also backed up by Pris Witless's comments on what Alice would be doing without her 'help' and Alice's own morality.[1]
Jack Splatter is Nan's pimp whom she argues with.[3] In Pris Witless' cutscene, Nan is seen serving drinks to Jack at the Mangled Mermaid.[1]
Jack's nickname for Nan is "Ladybird."[3]
References
Edit