Octopus
Talk

0
386pages on
this wiki
Time is not the only impediment to vivid memory.

This page is under construction. Please contribute in helping this page.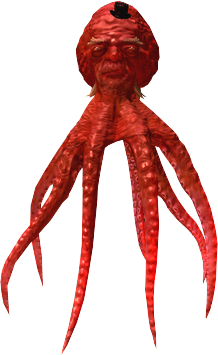 The Octopus is a new character in Alice: Madness Returns who appears in the Deluded Depths. He is a minor character, but one that triggers the hide-and-seek side quest for Alice.
Biography
Edit
Alice: Madness Returns Edit
Personality
Edit
The Octopus is a depressive and angstful being who lives at the bottom of the ocean. He writes scripts for plays. He does not agree with Carpenter, calling him a "pusillanimous, parsimonious, pettifogging moron."
It is very evident that the Octopus is an alcoholic. He has become frustrated from a lack of recognition for his talents as a writer as well as a distant personal connection with others. To satiate his needs, he demands Alice to find him three times in a game of hide-and-seek, though the ink jets he uses to propel him give his position away. He is usually found inside a bottle of ale.