Roses
Talk

0
385pages on
this wiki
Roses
are collectable items that display
Alice's
health. Roses can be collected when dropped from enemies, and in
breakable containers
such as snail shells or treasure chests.
Throughout Wonderland, Alice battles with countless enemies. When Alice takes damage in a battle, the roses disappear varying from a quarter of a rose to multiple roses at a time. If Alice's health drops to one rose left, Hysteria becomes available and she is rendered invincible for a short span of time.
Roses can be replaced when dropped by enemies and found in breakable containers. They are also replenished when inside purple shrink sense flowers scattered around Wonderland.
"Painting the Roses Red"
Edit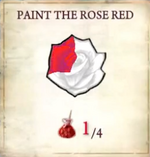 Alice's health can be extended by "painting the roses red," which is done by completing missions given in hidden Radula Rooms around Wonderland. When a mission is completed, or a trivia question is answered correctly a jar of red paint is supplied and paints a quarter of the rose on the in-game menu red. Once all four sections are filled, a new rose is added to Alice's life.

Certain dresses affect Alice's health and her ability to collect roses.
When using the Knightmare, each successful hit will regenerate a quarter of a rose in Alice's health.