Tweedledum and Tweedledee
Talk

0
386pages on
this wiki
"
Nothing cures a tummy-ache like a jab in the nether-regions with a very hot poker!
— Tweedledum and Tweedledee
"
Tweedledum and Tweedledee work for the Mad Hatter, running his asylum in Looking Glass Land, and they are not too kind towards patients. The larger Tweedle is Tweedledee, and the smaller Tweedle is Tweedledum.
Early life
Edit
When Alice went into the Looking Glass, she soon discovered Tweedledee and Tweedledum who were standing together perfectly still like wax works. They greet Alice with their nonsensical manner of saying, "How do you do?" and shake hands repeatedly. They tell Alice the story of the Walrus and the Carpenter and both of them notice the Red King dozing off. The Tweedles soon get into a battle with each other all because Tweedledee broke Tweedledums' new rattle. But then they start having doubts about the fight until a monstrous crow swoops down and frightens them away. They are not seen again.

American McGee's Alice Edit
When Alice encounters them, she is reminded of the orderlies at Rutledge Asylum whose sadistic teasing and lascivious taunts are analogous to the Tweedles. These orderlies were revealed to also be twins, and nephews of the Rutledge superintendent, who often force-fed Alice until she got revenge by stabbing one in the cheek with a spoon. They have taken on a cannibalistic bent, as they comment on her being too scrawny for a decent snack. To which Alice offers to "fill their bellies," presumably with weapons fire.
Tweedledum and Tweedledee are dimwitted lunatics capable of melee attacks, using their propeller beanies to fly and drop down on Alice, and the ability to split open and spawn smaller, weaker versions of themselves. As a boss, the twins aren't that hard to defeat, provided the player can defeat their clones as well. As each twin creates more clones, they will become more persistent in dropping onto Alice, attacking with wooden swords and throwing what appears to be hand grenades. If one twin is defeated, there is less of a challenge against them. It's best to keep Alice and the twins at a distance, usually by throwing the Jacks.
Alice: Madness Returns Edit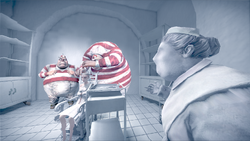 The twins were only a hallucination of Alice being a patient once again in Rutledge Asylum. They often took the place of the orderly brothers and assist Nurse Cratchet in the "treatments" for Alice's condition. They were seen performing trepanning and bloodletting on Alice.[1]

In a deleted scene, they give Alice electric shock therapy sessions and it is hinted that they sexually harassed her.
They speak in gibberish sentences.
They are also shown to insult each other when not tormenting Alice.
References
Edit