Umbrella
Talk

0
385pages on
this wiki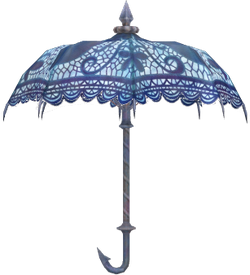 The Umbrella is a preventive weapon used by Alice in Alice: Madness Returns. It is the only defensive, shield-like weapon available in the game. Like the clockwork bomb, it cannot be upgraded and there is no DLC edition of this weapon.
Alice: Madness Returns Edit
When Alice climbed up the gear elevator in Hatter's Domain, before she goes off to recover the Mad Hatter's arms and legs, the parasol floated down in front of her. After taking it, a menacing ruin appeared and attacked Alice.[1]
She is now able to deflect an enemy's attack if timed correctly.

It is a very useful weapon against enemies that can throw projectiles, as it can save Alice from incoming fire, and as she twirls it around, it can deflect attacks back at the opponent.
However, Alice must be focused on a foe in order to use it. And, occasionally, a strong ranged attack will bend it backwards and send Alice spinning instead, leaving her vulnerable for a small period of time.
Appearance
Edit
Although it is called "umbrella," suggesting that it can be used in the rain, as it is made from light blue Battenburg lace; it looks more like a parasol, a sun umbrella. The handle is black, and a few holes can be seen along the lining.
The Umbrella was originally meant to be used to glide through the air, but due to technical complexities and Alice's possible association with Mary Poppins, the idea was discarded.[2]
The Umbrella first makes its appearance in Alice's bedroom in the orphanage. It cannot be collected.
The Bitch Baby is the only enemy that can possibly be defeated by the umbrella's deflection only.
References
Edit