Walrus
Talk

0
261pages on
this wiki
| | | |
| --- | --- | --- |
| " | Time to eat. Death is the ultimate equalizer. All have the right to be eaten. | " |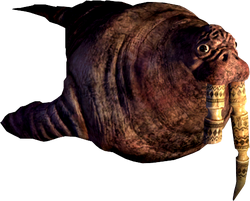 The Walrus makes his appearance in Wonderland in Alice: Madness Returns, and has become even more selfish than the Carpenter since they were first met in Through the Looking-Glass.
Early life
Edit
Tweedledum and Tweedledee recited a poem in the second Alice Book about a Walrus and a Carpenter who wept over the beach being far too sandy. He and the Carpenter entice a group of Oyster Starlets by four, and eventually devour them all. Alice came to the conclusion of the tale that the two characters were just as bad as each other: The Walrus ate more than the Carpenter but showed remorse, but the Carpenter ate as many as he possibly could.
Alice: Madness Returns Edit
The Walrus has been corrupted by his own gluttony, more so than the Carpenter had been. During the Carpenter's show, the Walrus kills the star and then recites a poem that everyone is bound to die and justifying this as a meaning to eat all the Oysters and fish he can possibly get at. As he gorges on what's left, the Infernal Train crashes into the theater, presumably killing him and the Carpenter.
Poem in Alice: Madness Returns Edit
Sword and Crown are worthless here.
I invite everyone to dance.
Laborers, Lawyers, Church, and Gown, All make thair little prance.

Men and Women, Young and Old, reject my prophet hand.
I don't implore them, nor ignore them.
I firmly take my stand.

This life is full of random death.
And heaps of greif and shame.
So few are soothed by "accident",
You want someone to blame.

Fire, Plague, or Strange Disease,
Drowned, Murdered, or, if you please,
A long fall down the basement stairs.

None are expected,
No one cares.

I know the steps very well,
All must learn my little dance.

Families may die and loved ones cry, but no one is left to chance.

I often must work very hard, sweat running down my skin.
After the dance, I then must rest, and the eating can begin.