Wonderland
Talk

0
261pages on
this wiki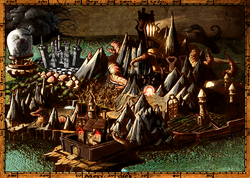 Wonderland is an imaginary country that was created by Alice Liddell in her childhood, and is the main setting for American McGee's Alice and Alice: Madness Returns.
Background
Edit
First appearing in Alice's Adventures in Wonderland, Wonderland's main population consists of anthropomorphic animals, and is governed by a monarchy of playing cards. In the book, it is located underground (apparently somewhere beneath Oxfordshire), and reachable by traveling down a rabbit hole. It's never specified how far down it is, but Alice did speculate whether it is near the center of the earth or even at the Antipodes.
In the second book, Through the Looking-Glass, Alice visits another country known as "Looking-Glass Land," which is reachable via mirror and is governed by a chess monarchy. However, in the first Alice game, this land appears as a province in Wonderland, meaning while the chess monarchy control the Looking-Glass Land, the card monarchy are the over-all rulers for the entirety of Wonderland.
Being a part of her subconscious mind, the land is affected by Alice's mental and emotional health. It was once a whimsical land, reflecting Alice's innocent nature, but following the girl's mental breakdown brought on by the death of her family, Wonderland became corrupted by her insanity and turned into a considerably more macabre rendition of itself.
It's unclear what happened to Wonderland towards the end of Madness Returns. After Alice learned the truth about the fire, and killed both Angus Bumby in the real world and the Dollmaker in Wonderland, she created a hybrid country called Londerland, and the Cheshire Cat stated that Wonderland had become damaged, possibly due to another mental lapse.
Geography
Edit
American McGee's AliceEdit
In Alice, after becoming corrupted, Wonderland is composed of nine main provinces:
Alice: Madness ReturnsEdit
In Madness Returns, Wonderland has changed again, due to Bumby's therapy, and revisited locations have changed physically. However, like before, danger lurks in every corner and the world is still very dangerous. Again, there are nine main provinces: