Wonderland
Talk

0
385pages on
this wiki
Wonderland
is an imaginary country that was created by
Alice Liddell
 during her childhood, and is the main setting for
American McGee's Alice
and
Alice: Madness Returns
.
Wonderland returns in the form of Otherland for the upcoming finale of the series, Alice: Otherlands.
First appearing in Alice's Adventures in Wonderland, Wonderland's main population consists of anthropomorphic animals, and is governed by a monarchy of playing cards. In the book, it is located underground (apparently somewhere beneath Oxfordshire), and reachable by traveling down a rabbit hole. It's never specified how far down it is, but Alice did speculate whether it is near the center of the earth or even at the Antipodes.
In the second book, Through the Looking-Glass, Alice visits another country known as "Looking-Glass Land," which is reachable via mirror and is governed by a chess monarchy. However, in the first Alice game, this land appears as a province in Wonderland, meaning while the chess monarchy control the Looking-Glass Land, the card monarchy are the over-all rulers for the entirety of Wonderland.
Being a part of her subconscious mind, the land is affected by Alice's mental and emotional health. It was once a whimsical land, reflecting Alice's innocent nature, but following the girl's mental breakdown brought on by the death of her family, Wonderland became corrupted by her insanity and turned into a considerably more macabre rendition of itself.
After Alice learned the truth about the fire, and killed both Angus Bumby in the real world and the Dollmaker in Wonderland, she created a hybrid country called Londerland, and the Cheshire Cat stated that Wonderland had become damaged, possibly due to another mental lapse.
Geography
Edit
American McGee's Alice Edit
In Alice, after becoming corrupted, Wonderland is composed of nine main provinces:
Alice: Madness Returns Edit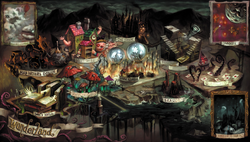 In Madness Returns, Wonderland has changed again, due to Bumby's therapy, and revisited locations have changed physically. However, like before, danger lurks in every corner and the world is still very dangerous. Again, there are nine main provinces:
Vale of Doom: The Vale of Tears are initially re-imagined by Alice to be a lot more tranquil than in her adventure in the first game, although the environment soon reflects Alice's deteriorating mental condition, with visible corruption oozing from all over. Later on, Alice visits the Vale again, but by then it has degenerated so much it resembles a wasteland of destruction and ruination.
Hatter's Domain: A fairly remote place near the Vale, it resembles an industrial complex full of mechanical architecture powered by steam. Within appears to be a new management running the place along with new dangers posed by cranks, cogs, gears, vents, and even molten metal.
Tundraful: A frigid environment with childlike nocturnal artifacts around. Pathways can be connected by breaking brittle ice obstacles in the way. Quaint depictions of celestial objects in the night sky are present, if along some more macabre-looking frozen carcasses of various creatures set permanently into the landscape; a grim reminder that not all is well with Wonderland.
Deluded Depths: The under-sea area where Alice behaves almost as if it were land. A theatre and an accompanying community of fish-people presents itself as the most promising landmark in an otherwise bleak and bland looking watery grave of sunken ships and drowned seamen. Littering the environment are jellyfish-like platforms and hydrothermal vents that allow Alice to journey through the abyss to clearer waters.
Oriental Grove: A world that Alice enters in a much diminutive form where all inhabitants can finally compare with her in size, it is heavily influenced by Eastern cultures with mountainous landscapes and wide crevices. A community of Origami Ants reside in simple, built up areas carved from rock and bamboo. Toys pertinent to Eastern culture are magnified in size and serve as physical support for Alice to travel between areas. Within the mountain rock lie a gateway to an unusual world where Eastern art comes alive that Alice can use to travel through. Upsetting the peace are Samurai Wasps that bring grief upon the Ants and are hostile towards Alice.
Cardbridge: Made of playing cards that form various familiar environmental mechanics that help Alice to travel, this place is mostly deserted and high up in the sky above Queensland. Each individual card seems to have a mind of its own, but some in a group behave as one, flitting about randomly and sometimes help Alice along her way by acting as platforms.
Queensland: The remains of the Queen of Heart's residence since Alice's last confrontation with her. Mostly a depiction of rot and decay within the royal grounds as much of the Queen's physical, fleshy influence are now dead remains that accompany the inanimate architecture. However, closer to the core of Queensland the Queen very much still remain alive in the flesh as grotesque mosses of her being stay red with life. The inhabitants of these grounds have now taken a morbid decay of their former selves, but remain ever hostile towards Alice and her allies as they have always been.
Dollhouse: The somber corner of Wonderland when Alice's mind slipped into chaos again, this gloomy area is a product of the new abuses that came upon Alice after she was let go from Rutledge. A gloomy, unhappy place of neglect and abuse, the Insane Children are subjected to a cruel fate relating to dolls and other abominations. The innocent and colorful exterior of the Dollhouse belies a macabre secret that has to do with Alice's worsening madness, characterized by a darker and grimmer reflection of the doll world outside.
Infernal Train: The recurring artifact that seems to cause ruin and destruction to the Wonderland so loved by Alice, this is the place where she may finally realize the truth behind the madness that has plagued her since her fateful childhood and even after her time in Rutledge.